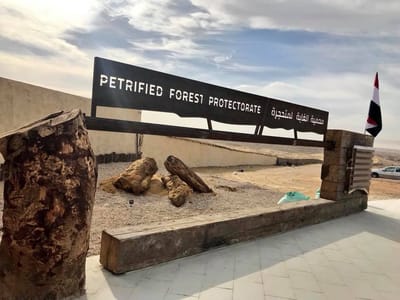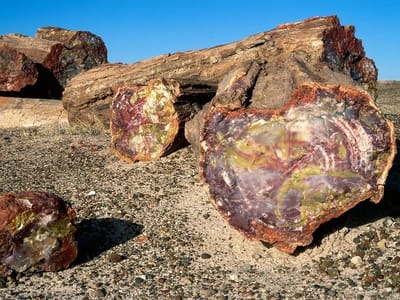 Park at Glance
Just about 30 kms away from the hustle and bustle of Cairo's busy city life, lies the Petrified Forest, a natural reserve which carries along with it at least 35 million years of our earth's history. The area, which lies in the suburbs of the Fifth Settlement about 18 km away from Cairo's Maadi neighborhood, is also known as Gabal El-Khashab, which translates from Arabic into "Wood Mountain." For those who are interested in ecotourism and sustainable tourism, this is a must-see given its historic and scientific heritage. The Petrified Forest is a glimpse of the preservation of the planet's physical and geological history.
The story behind the formation of the petrified forest goes back to the Oligocene era (a geologic epoch of about 30 million years ago), when an ancient branch of the Nile carried trees along and deposited them in the area. The trees were buried and changed in rocks aloge millions of years.
It also holds fossilized mammals, as well as plants, flowers and fruit from nearly every geological time period. It is home to rare plants, distinct reptiles, birds and animals such as the red fox. The forest was declared a Protected Area in 1989 and is currently represented as an exquisite scientific, touristic, and cultural site.
Our Mission
The Petrified Forest Protected Area represents an important component of Egypt's natural heritage, and its aim is to protect the unique petrified fossils, which makes it a distinct cultural, educational and tourist site that enriches the network of natural protected areas in Egypt and reflects a positive and lasting value for the current generation and generations to come.
Primary objective
"To protect specific outstanding natural features and their associated biodiversity and habitats."
Other objectives
To provide biodiversity protection in landscapes that have otherwise undergone major changes;
To protect specific natural sites with spiritual and/or cultural values where these also have biodiversity values;
To conserve traditional spiritual and cultural values of the site.
About the project
Supporting sustainable ecotourism project is a GEF small Grants program (GSP) funded project, implemented by
Environment Without Borders Foundation (EWBF)
. The project aims at supporting sustainable ecotourism activities for preserving biological diversity and developing visitor management programs in two national parks (Wadi Degla and Petrified Forest), Cairo, Egypt.
The project relies on developing and implementing innovative programs for sustainable ecotourism that ensure the preservation of biological and geological diversity in the Tigris Valley and Petrified Forest reserves in Cairo Governorate, as the project is based on the idea of designing and implementing visitor management programs in the two reserves that would improve and diversify funding resources in order to achieve efficient management for the conservation of biological diversity. And natural resources in them.